Travel of the President of the IMS to Africa

30/04/2017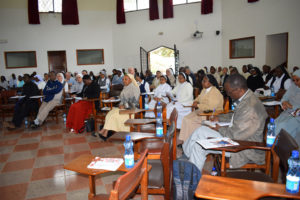 Father Ménard, President of the IMS, was in Africa between April 24th and April 30th. Accompanied by Brother Vignau (administrator) and Mister Sacheli (operations manager), he attended the MISAL (European meeting of the missionary societies) in Abuja (Kenya) where he presented the IMS (its history, organization and operating mode) and informed the superiors.
He visited the archdiocese of Abuja and two colleges of the Marist Brothers where he informed about the IMS. Finally, representatives of groups belonging to the IMS came to inquire.
In Nairobi (Kenya), the President met the cardinal, the bishops of the conference as well as superiors, bursars and managers of local groups in order to raise awareness among them about the cost of the medical care in their country in relation to the IMS practices of solidarity. Then, he visited the IMS local section to greet the staff and thank them for their work.