Sending your invoices and slips without delay

28/09/2021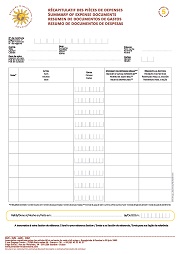 Because of the pandemic, International Missionary Benefit Society has decided to simplify the sending of invoices and forms Group leaders are invited to send these documents by e-mail.
In order to facilitate processing, group leaders are invited to send these elements to their section without waiting for a large number of requests.
Please note
A control procedure has been put in place within the IMS.
Each group must therefore keep its original invoices and receipts for a minimum of 2 years (due to the 2-year foreclosure period) and be able to present them to the IMS, which may request them.
Reminder of the elements to be transmitted by e-mail (scan or photo)
Treatment sheets,
prescriptions and prescriptions with stickers if applicable,
 original invoices or certified copies with the practitioner's stamp and signature,
 photocopies when it is a prescription renewal,
a letter specifying the care the member received, the doctor's speciality and the name of the currency.