Meeting the leaders of the Catholic Church of Latin America

15/03/2019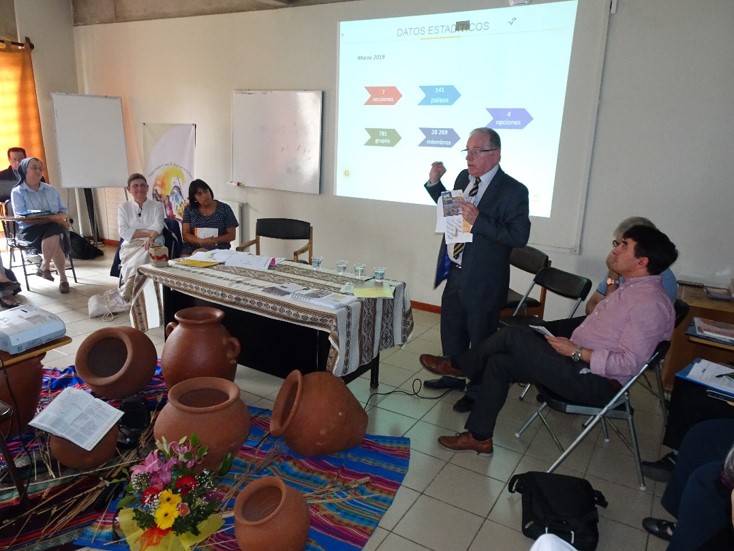 In March 2019, Sister Elisabeth AULIAC, President of the International Missionary Benefits Society, went to meet the leaders of the Catholic Church of Latin America, in order to present the Association, but also to study the local solutions in terms of health cover. She was accompanied by Brother Henri VIGNAU, Secretary-General, and by Mr Sylvain SACHELI, Operational and Development Manager.
In Colombia, Monsignor Juan Espinosa JIMENEZ, Secretary-General of the Latin American Episcopal Council (CELAM) and Monsignor Francisco Nino SUA (his deputy) mentioned the important consideration of the health and social aspects by the dioceses across the continent. The quality of the services may vary according to the countries and the cities, a need the IMS could answer.
In Chile, Brother Gregorio LINACERO MELON (manager) and Brother Niceforo Garran GONZALES (secretary of the Central America section) were also present alongside Sister AULIAC. They coordinated the IMS intervention before the assembly of the Latin American Conference of Religious (CLAR). Outside the contributions of the President, Brother VIGNAU and Brother LINACERO MELON, three congregation managers spoke about their experience of the solidarity and the services of the IMS.
Monsignor Ivo SCAPOLO, apostolic nuncio of Chile gave the IMS managers a remarkable welcome, providing important details about the difficulties of certain congregations and monasteries.
During another meeting, Monsignor Fernando RAMOS, Secretary-general of the Chilean Bishops' Conference recalled some of the difficulties of the religious; he also reflected on the possible alliance between several health cover systems.
Finally, Cardinal Ricardo Ezzati ANDRELLO, Archbishop of Santiago de Chile also showed his interest in the IMS. The congregations and the communities in difficulty but also the new communities have a clear interest in getting closer to the IMS.