IMS President visits Kenya

03/05/2022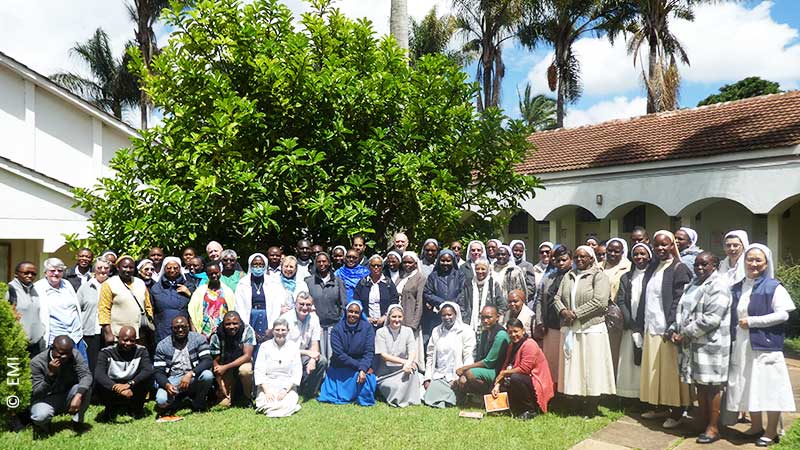 Sister Elisabeth AULIAC, President of the EMI, went to Kenya from 25 to 29 April 2022.
After several postponements due to COVID, this mission was finally able to take place with four major objectives:
to meet, listen and exchange with the EMI Groups present in Kenya
to dialogue in situ with the teams of the Province of the Marist Brothers of Central Africa (PACE), responsible for the EMI East Africa Section since December 2020,
to accompany on the ground the setting up of the new EMI services,
to visit several hospitals and dispensaries that could join the new EMI care network.
The EMI East Africa Chapter has undergone two major changes in a few months: it has been entrusted to PACE; then the administrative management of mutual aid has been delegated – as everywhere else in the world – to a new partner: MSH international.
The implementation of the new aid management methods required some adjustments (e.g. modification of administrative data, confirmation of the transfer of some aid) but the general assessment is positive and very promising in the medium term. The pandemic has indeed complicated links and the organisation of meetings here as elsewhere, but the groups have been able to form and welcome the features available online since January 2022, in particular the ease of access to management information and the speed of the process of submitting aid requests. The IMS Section is present and attentive to the specific aid needs of the communities on the ground.
The President was able to visit several hospitals and clinics. While the scope of the health care network is gradually expanding, the President would like to see the process accelerated so that beneficiary members can be hospitalised without having to pay in advance in a significant choice of health care facilities that meet the criteria of quality and cost.
The pandemic seems to be contained, the Marist Brothers are engaged in the EMI mission with efficiency and a great attention to solidarity and the new collaboration with the MSH partner is in place. The EMI representatives of the congregations, dioceses and associations have therefore expressed their confidence in Entraide Missionnaire Internationale.
The Association is able to meet most of the needs of communities seeking health coverage in solidarity and the needs are real in Kenya as well as in the countries of the region. The mission is therefore important for Brother Wenceslas (responsible for the EMI East Africa Section) whom the President encourages and who can count on a motivated and competent team: Brother Teo (Secretary of the EMI East Africa Section) and his assistants Gladys and Paskal.
At the Board of Directors of the East Africa Section
With the representatives of the dioceses
With the EMI Groups of the East Africa Section
At the Saint Odile Dispensary

At the Saint Francis Hospital
Crédit photo @Entraide Missionnaire Internationale