Father Michel MENARD was awarded the "Pro Ecclesia and Pontifice" award

08/03/2019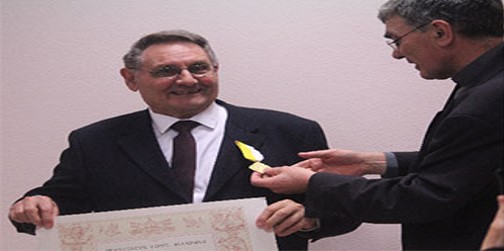 On March 8, 2019, Father Michel MENARD was presented with the "Pro Ecclesia and Pontifice" award at a ceremony organized by the IMS and the Priests of Santiago in Guiclan (Brittany, Finistère, House of priests of Santiago).
On this occasion, about 35 people were gathered from France and Africa: the administrators and African sections IMS, the priests of Santiago, the representatives CORREF and USM, the family and friends of Father Michel.
After Mass and on behalf of Pope Francis, Monsignor Denis MOUTEL, Bishop of Saint-Brieuc presented his distinction to Father Michel in the presence of Father Paul DOSSOUS (Superior of the Priests of Santiago), Brother Louis SEITE (representing the CORREF), Sister Elisabeth AULIAC (President of the EMI) and Monsignor Denis MOUTEL. Father Michel's commitment has been recognized: 56 years entrusted to the Church, 20 of which are devoted to the EMI (16 years as president) and 45 years in responsibilities at the Institute (Council, thrifty, superior).
The task was immense, both for the benefit of the Priests of Santiago (crisis management during the earthquake in Haiti, sending dozens of containers to Haiti, the project of the wood boiler in Guiclan, the annual Feast of Friendship…..) and the IMS (multiplication of staff, creation of options, initiatives to promote Solidarity such as option 5 or Social Fund internationalization…..).
By their presence, the participants largely thanked Father Michel for his work; enjoyed being distinguished as much as finding the warmth and spontaneity of human bonds.